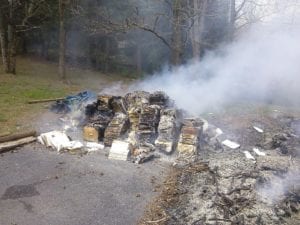 File an Air Pollution Complaint (24/7) 423.643.5970
The Chattanooga-Hamilton County Air Pollution Control Bureau investigates complaints that involve air pollution issues.  Our investigator responds to complaints 24 hours a day, 7 days a week. 
To file a complaint that is currently occurring, call 423.643.5970.  If it is after business hours, you will be connected to our on-call investigator.  The website is monitored during business hours Monday – Friday.  Online complaints will not be received until Monday morning.
If you would like to file a complaint for an ongoing issue (that is not occurring at that moment), please call the above number during business hours – Monday  to Friday, 8:00 a.m. – 4:30 p.m.
What is the typical nature of a complaint?
burning, including, but not limited to:

excessive smoke which is creating a nuisance
burning materials other than vegetation and/or untreated, non-manufactured wood
burning after permitted hours
leaving a fire unattended
burning during the burning ban (May 1 – Sept 30)
If you fear the fire is a safety issue, contact the fire department.

mishandling of asbestos


odors from an industry


excessive smoke coming from an industry
Any information you provide, including your name and phone number, becomes public record and may be released if someone submits a Tennessee Open Records Request.